WPF NotifyIcon – Bugfix and WinForms Support
I released an update to my WPF NotifyIcon, which fixes two issues:
Interactive Popups should now fully support all control types.
The control can now be used in Windows Forms projects, if you need more functionality than the built-in component.
The solution now comes with an additional WinForms sample project, which shows how to display a WPF user control as an interactive popup.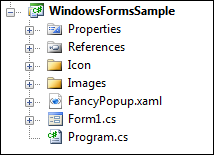 Download link and further information can be found on the control's home page:
http://www.hardcodet.net/wpf-notifyicon