NetDrives – Simple Network Share Management


NetDrives is a Windows utility that helps you manage your network shares and mapped network drives.
NetDrives is free software.

Latest Version: 1.0.2 (2009.12.07)
System Requirements:
Microsoft Windows xp or higher

Microsoft .NET Framework 3.5

SP1

(download here)
Features and Screenshots
Simple configuration of network shares and user logins.
Supports both UNC connections and mapped network drives.
Quick access and monitoring of shares through system tray (optional).
Optionally reconnects to selected shares on startup.
Optionally starts with Windows and runs in background (system tray).
Secure password storage (based on Windows Data Protection API).
Open source (C#, WPF). Download source code here.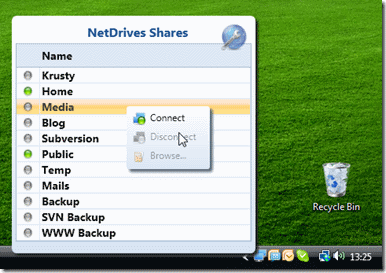 NetDrives can run silently in the background. The icon in the system tray
displays the overall status of your configured shares and provides quick
access to all configured shares.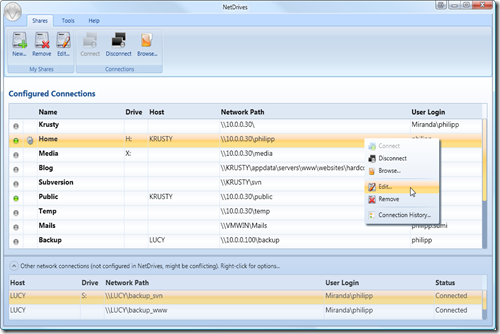 The main window displays configured shares and other network connections. A set of easy
to use tools allows you to create, manage, and diagnose your network shares.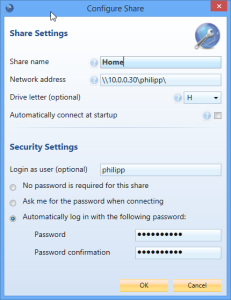 The share configuration dialog provides you with several options
when it comes to drive mapping, automatic connections and login modes.